Wednesday, January 27, 2010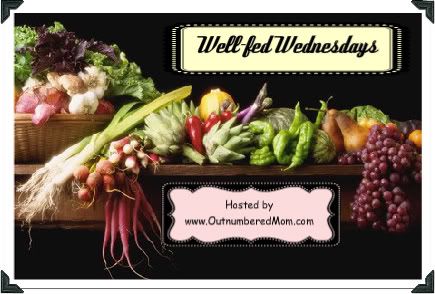 It's Wednesday again --- time for some more
family-friendly recipes
.
Join in by clicking on Mr. Linky below. Just write a post with your family-friendly recipe and add your address in Mr. Linky. We'll come visit you to gather recipes, and you can visit everyone on the list, too.
If you'd like the grab the
Well-fed Wednesdays
button, it's on the sidebar. Help yourself.
Here's my offering for Week #2.
CHICKEN PACKETS

2 c. cooked, chopped chicken, 1 3 oz package cream cheese, softened
1 Tbsp. chopped chives, 2 Tbsp. milk
1/2 c. crushed croutons, 2 packages refrigerated crescent rolls
1/3 c. melted butter

Mix chicken, cream cheese, chives, milk, and salt in a medium bowl to make filling. Unroll crescent rolls. Each tube contains 4 rectangles of dough with a diagonal perforation. Press dough along each performation so the rectangles halve don't separate. Place about 1/4 c. chicken mixture in the middle of each rectangle. Fold dough over filling and pinch edges to seal. Dip each packet in melted butter and coat with crouton crumbs. Bake on baking sheet in a preheated 350 overn for 20 min. or until golden brown. Makes 8 packets.

Why do my boys like them?
You can eat them with your hands OR with a fork!
Why do I like them?
You can make the filling ahead and freeze it -- then just assemble.
So, join on in. Share a recipe with us on your blog and link up below.
Join us at the table.
Laura