Wednesday, February 17, 2010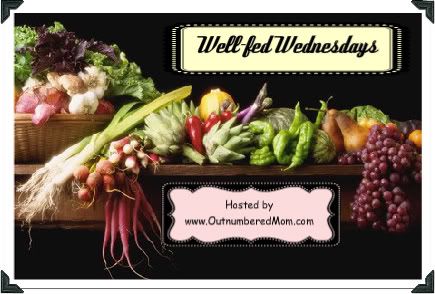 Today I'm sharing a family favorite that is
oh-so-easy
. Hope it's something you can use with your family.
If you have a family-friendly recipe
, just leave me a comment with a link to your blog. We'll all come over and check it out!
Here's my offering for this week:
Italian Chicken

4 boneless chicken breast halves, 1 envelope Italian salad dressing mix, 1/4 c. water, an 8 oz package softened cream cheese, an undiluted can cream of chicken soup, a 4 oz can (drained) mushroom stems and pieces.

Place chicken in crockpot. Combine salad dressing mix and water; pour over chicken. Cover and cook on low for 3 hours. In small bowl, beat cream cheese and soup until blended. Stir in mushrooms and pour over chicken. Cook 1 hour longer or until juices run clear. Serve over penne pasta.

So easy, it smells great cooking, and it's a hit at my house -- my youngest requests it for his birthday meal!
If you have a recipe to share with us, be sure to leave a comment and a link.

Happy cooking and eating!