Wednesday, January 20, 2010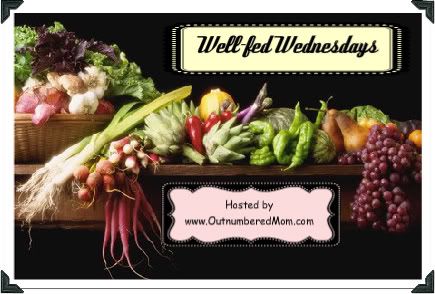 It's time for some
family-friendly recipes
!
Scroll down to Tuesday's post below to read all about
Well-fed Wednesdays
.
Then join us around the table.
Here's my first offering.
Porcupine Meatballs
1 c. Minute Rice, 1 lb. ground beef, 1 egg slightly beaten, 2 tsp. grated onion, 2 tsp. salt, 2 8 oz. cans of tomato sauce mixed with 1/2 c. water.
Combine uncooked Minute Rice with ground beef, egg, onion, salt, and 1/2 c. of tomato sauce mixture. Mix lightly, shape into 18 balls meatballs and place in skillet.
Pour remaining tomato sauce mixture over meatballs. Bring to a boil, reduce heat, and simmer covered for 15 minutes, basting occasionally.
Why is this a favorite of mine?
It's quick, with few ingredients.
Why is this a favorite of the family's?
I have four boys...they love ball-shaped entrees!

Don't forget to click below to join in, and feel free to grab the
Well-fed Wednesdays
button. If it's Thursday or Friday, don't worry about it -- join in. We have Saturday to shop and cook for next week!
Join us around the table. Happy cooking and eating!
Laura